Y for All Scholarship Fund

The Y is a non-profit organization that provides a number of services to the Monroe County community. Donating to our Y For All Scholarship Fund ensures the Y's facilities and services remain accessible to everyone in our community.
What's the Impact of Y For All?
The money we raise during our Annual Campaign goes to a number of different areas, all aimed at strengthening the foundations of our community.
One hundred percent of your contributions stays in your community! In 2017, the Y provided over $170,430 of support to 1,312 individuals in the Monroe County community. In 2018, 1,552 individuals were impacted because of Y for All Annual Campaign, which provided $185,528 in full or partial YMCA scholarships to help support families in need to cover costs for Y memberships, programs, and Summer Camp.
Every gift makes a difference.
Everyone has a role to play.
Together, we can achieve so much more.



Total Raised in 2019
Below is our total amount raised in 2019. Stay tuned for our 2020 goal!
You can also see a full breakdown of how donations are raised through different eents throughout the year.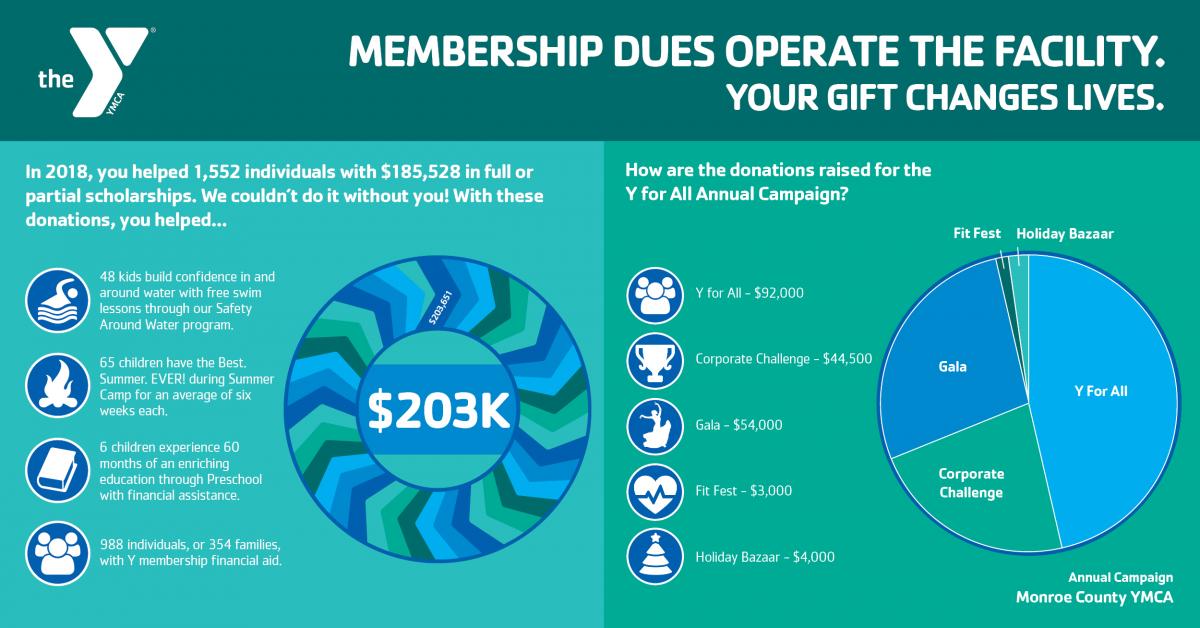 Give Today
A pledge is an easy way to make a regular contribution that helps us sustain programs and services while breaking down your annual gift into easier monthly installments.
To get started, contact Development Director, Matt Osgood, or make your gift online.
For gifts of $1,000 or greater, please see our Chairman's Round Table opportunities.

Learn how you can support Y For All at no additional cost through our Community Reward programs.
Questions?
Matt Osgood
Development Director
info@MonroeCountyYMCA.org
(812) 961-2169